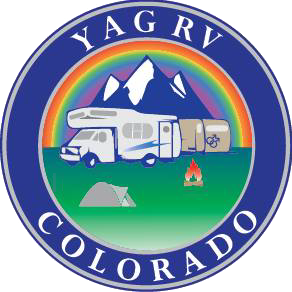 Friends, Forests, Fun!

YAG RV is an informal, loose-knit, LGBT group of friends who like to get together to go RV and tent camping, primarily in the beautiful state of Colorado.
Most of our trips are to state parks and national forest campgrounds in and around the Colorado Front Range, however we also take trips to neighboring states such as Wyoming and Utah. For a map of campgrounds that we have visited, or plan to visit, check out our YAG RV Google Map.
Trip planning is pretty informal. Some trips are planned as a group, while others are simply someone going camping, and inviting anyone from the YAG RV group to join if they are interested.
Most of our trips include many, if not all, of the following:
Group meals (breakfast, dinner)
Nature trail hikes
ATV & 4x4 trips (off-road motorcycles welcome, too!)
Playing games (cornhole, cards, dominos, etc.)
Trips to local tourist towns and scenic locations
Dogs, Dogs, Dogs! Our group is very dog-friendly
Our primary means of communication is via our Facebook group. This is where we post the schedule of our upcoming trips, hold trip planning discussions, post photos of past trips, have general discussions, and share knowledge. If you'd like to join us, look us up on Facebook: YAG RV.